On Sale!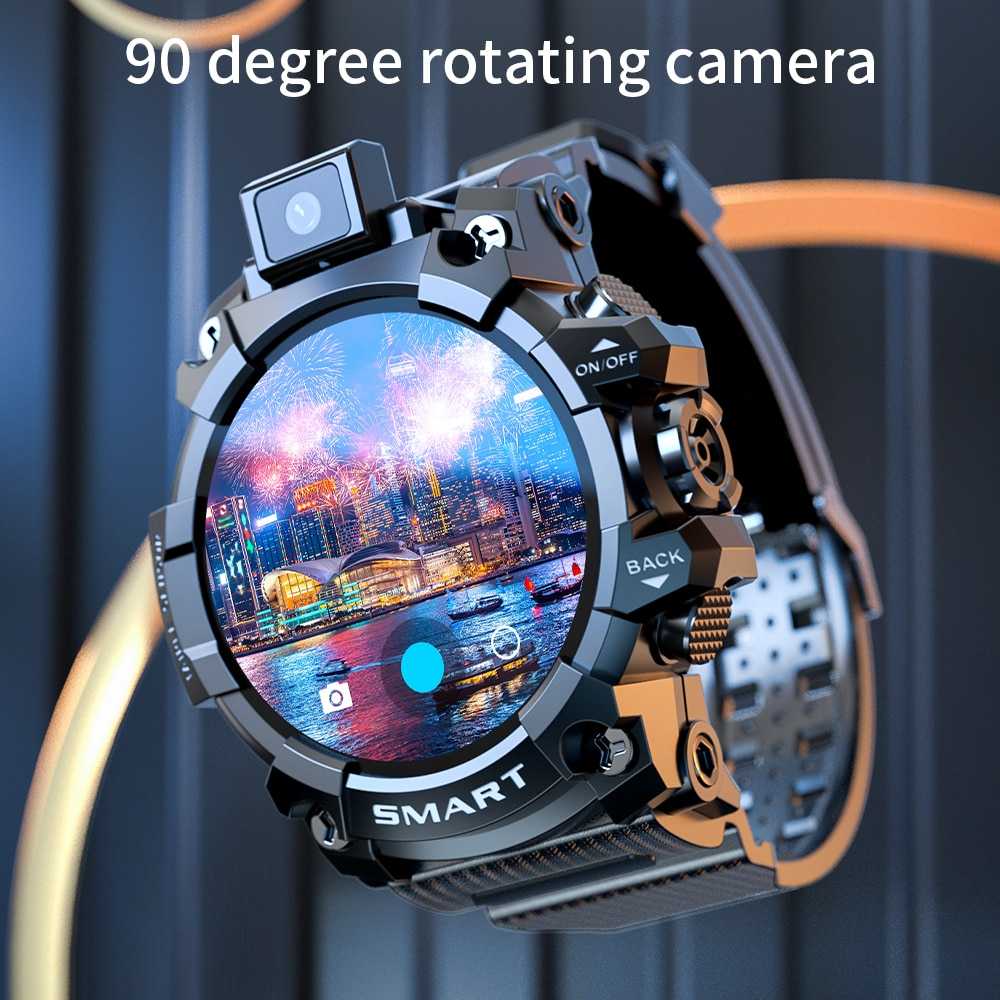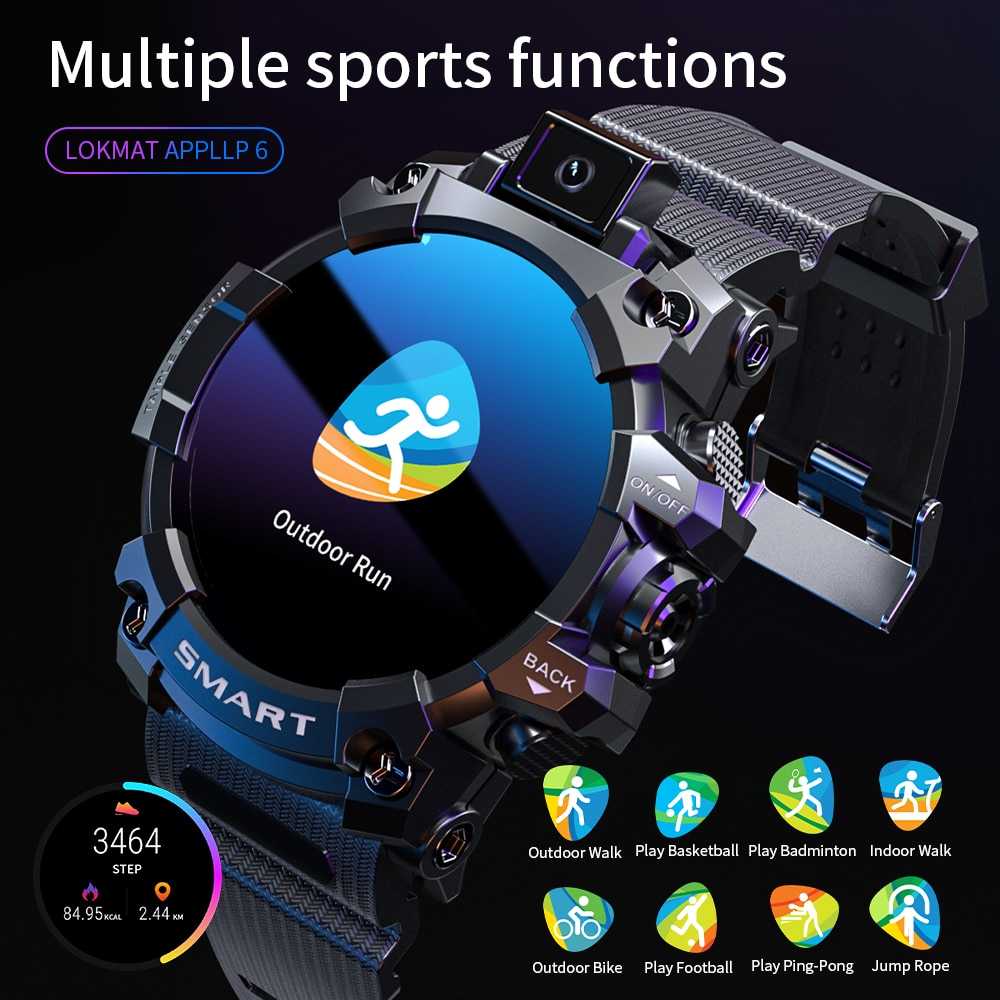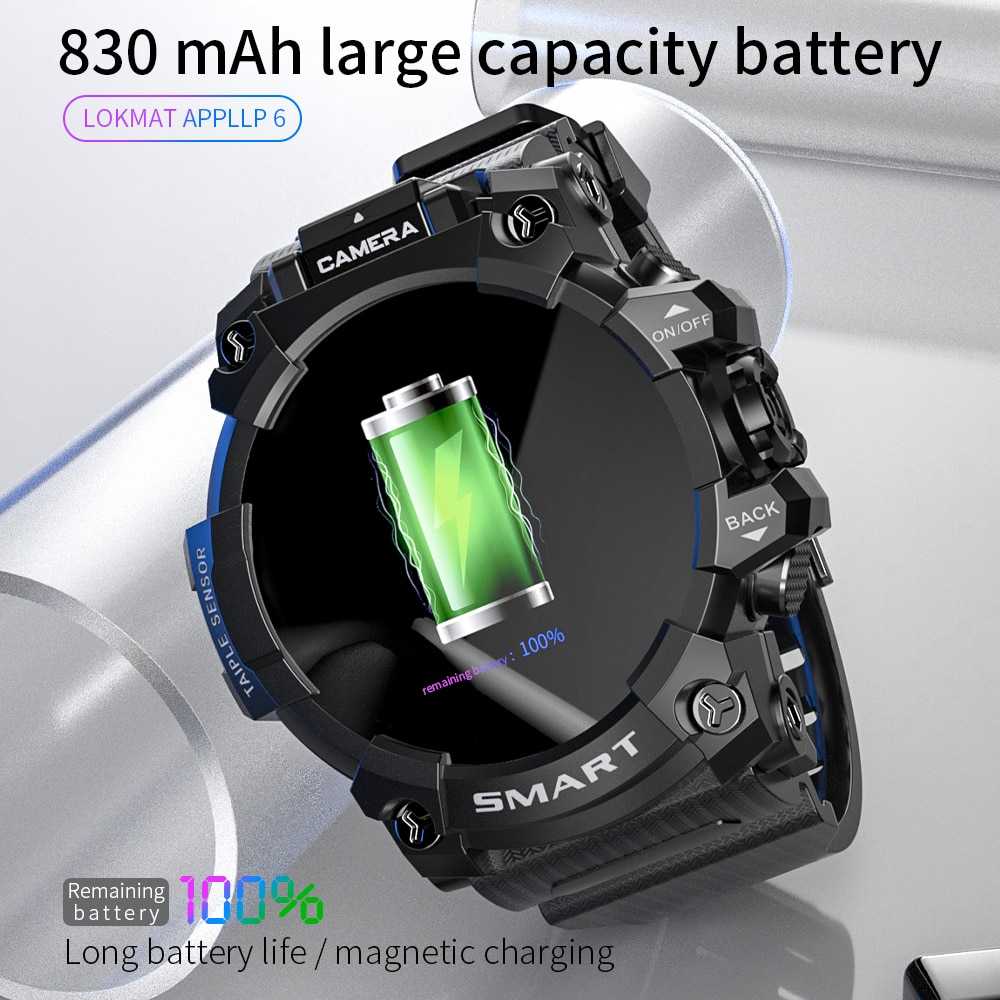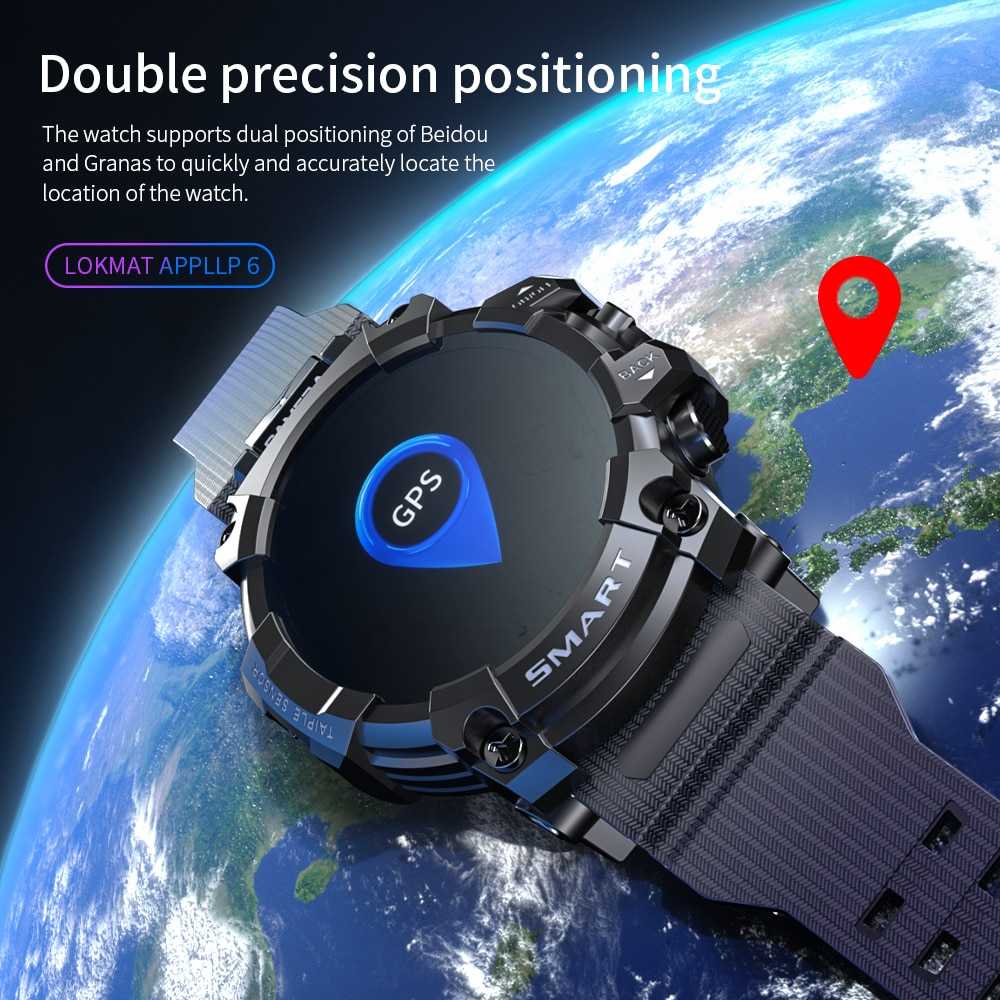 Lokmat Appllp 6 Smartwatch
LOKMAT APPLLP 6 Smart Watch 4G Wifi 1.6" Touch Screen Sports Smartwatches GPS with Video Phonecall Heart Rate Monitor Android 9

Delivery and return
Delivery and return
Your package will be shipped in 2--3 days and delivered within 7-21 days of order confirmation. The shipping is free worldwide.
For the Return Policy, please
click here
.
Shipping Information
Shipping Information
To secure fast and smooth shipping, our warehouses are located all over the world. Your items will be shipped from the warehouse nearest to your geographical location.
Composition & Care
Composition & Care
We ensure the quality of every product, which is why we hide nothing. Read the product description for all the details.
Description
Description
First of all, after you get the product, please charge the product first (please do not use the computer USB to connect the charging cable, or use a fast charger to charge it) and carefully read the user manual that comes with the product.
Q. Can this product support the use of my SIM card in my country?
A. The official data provides that the 4G frequency bands it supports are:
GSM: 900/1800
WCDMA: 900/2100
FDD LTE: B1/B3/B5/B8
TDDLTE: B38/B39/B40/B41
Whether it can support the use of your Nano SIM card, please consult the telecommunications company you use with the frequency band data supported by the watch;
The actual standby time depends on the usage habits and frequency of each user. The device is based on the Android system, with rich functions and powerful configuration. For high-power applications such as social media applications and games, power consumption will increase accordingly.
Q. Is the watch easy to get hot?
A. Use high-power applications for a long time. Because the processor generates a lot of heat when running at high speed, the heat dissipation speed of the watch is relatively slow due to the small area of the watch. Try to avoid using high-power applications for a long time, and spend some time and methods to reduce the device temperature in time
Use in the following cases can also cause the watch to heat up: use the computer to connect to the charging cable to charge, use it when the battery is low, and the watch runs multiple applications in the background.
Q. Does it support Bluetooth calling and APP on a smartphone?
A. Not supported, you need to install a Nano SIM card to use the call function. It works independently like a smartphone under Android 9.0 without connecting to the smartphone app.
Q. Is it waterproof? Can I wear it for swimming or showering?
A. Support hand washing, rain, sweat and immersion in shallow water for a short time. Does not support showers, diving, surfing swimming and other scenes.
Q. Which languages does it have?
A. It's a pity it doesn't have Italian, Arabic and Hebrew etc. pre-installed.
It supports the following languages: Simplified Chinese, Traditional Chinese, Catalan, German, English, Spanish, Basque, French, Galician, Indonesian, Swahili, Hungarian, Malay, Portuguese, Albanian, Finnish, Thai, Turkish, Greek, Russian, Vietnamese.
If you have other unanswered questions, please feel free to contact customer service first.
Hardware Configuration:
CPU: SCL8541E
Display screen:1.6 inch
Resolution:400*400 dpi
RAM/ROM: 2GB+16GB or 4GB+64GB (optional)
System:Android:9.0
Frequency band:
GSM:900/1800
WCDMA:900/2100
FDDLTE:B1/B3/B5/B8
TDDLTE:B38/B39/B40/B41
Camera:  5 MP
Battery:   830mAh
Battery life   2 days
charging method   Magnetic charging
Charging time   3 hours
G-sensor  3D G-Sensor
Air pressure sensor   SPL06-001
GPS With low noise amplifier, support Beidou and Granas
Function introduction:
Support manual language selection on the watch, make and receive calls, phone book, send text messages, WIFI, Bluetooth, download third-party apps, video calls, take pictures, alarm clocks, calendars, calculators, recordings, local music playback, weather, voice search, and count Step, heart rate, blood oxygen, respiration, multi-sports mode, find mobile phone, stopwatch, music control, raise your hand to brighten the screen, change the dial, take pictures remotely, push messages, etc.

Support language:
Simplified Chinese, Traditional Chinese, Catalan, German, English, Spanish, Basque, French, Galician, Indonesian, Swahili, Hungarian, Malay, Portuguese, Albanian, Finnish, Thai, Turkish, Greek, Russian, Vietnamese
Manual language: Chinese, English, German, Italian, French, Russian, Spanish, Portuguese, Japanese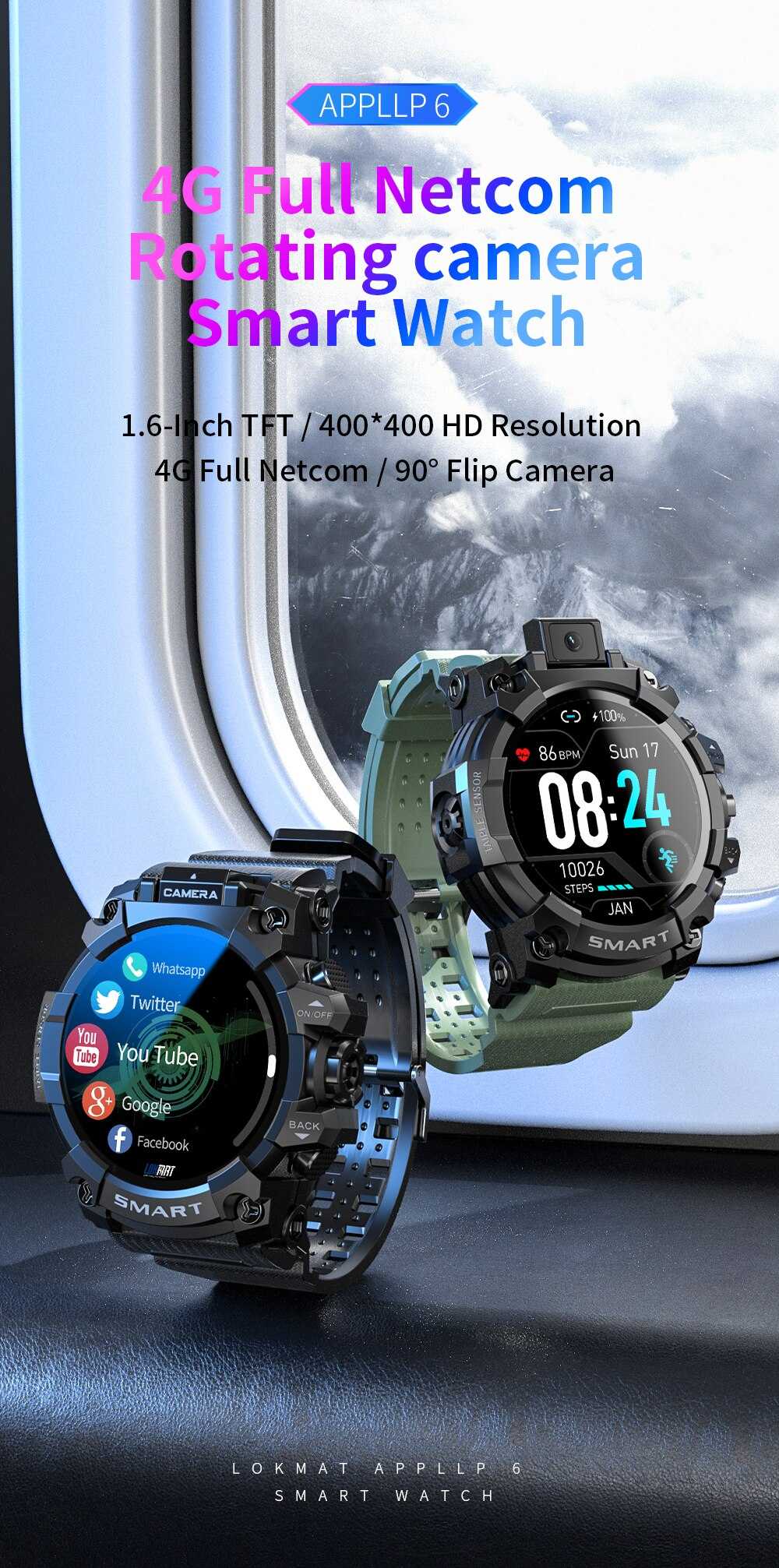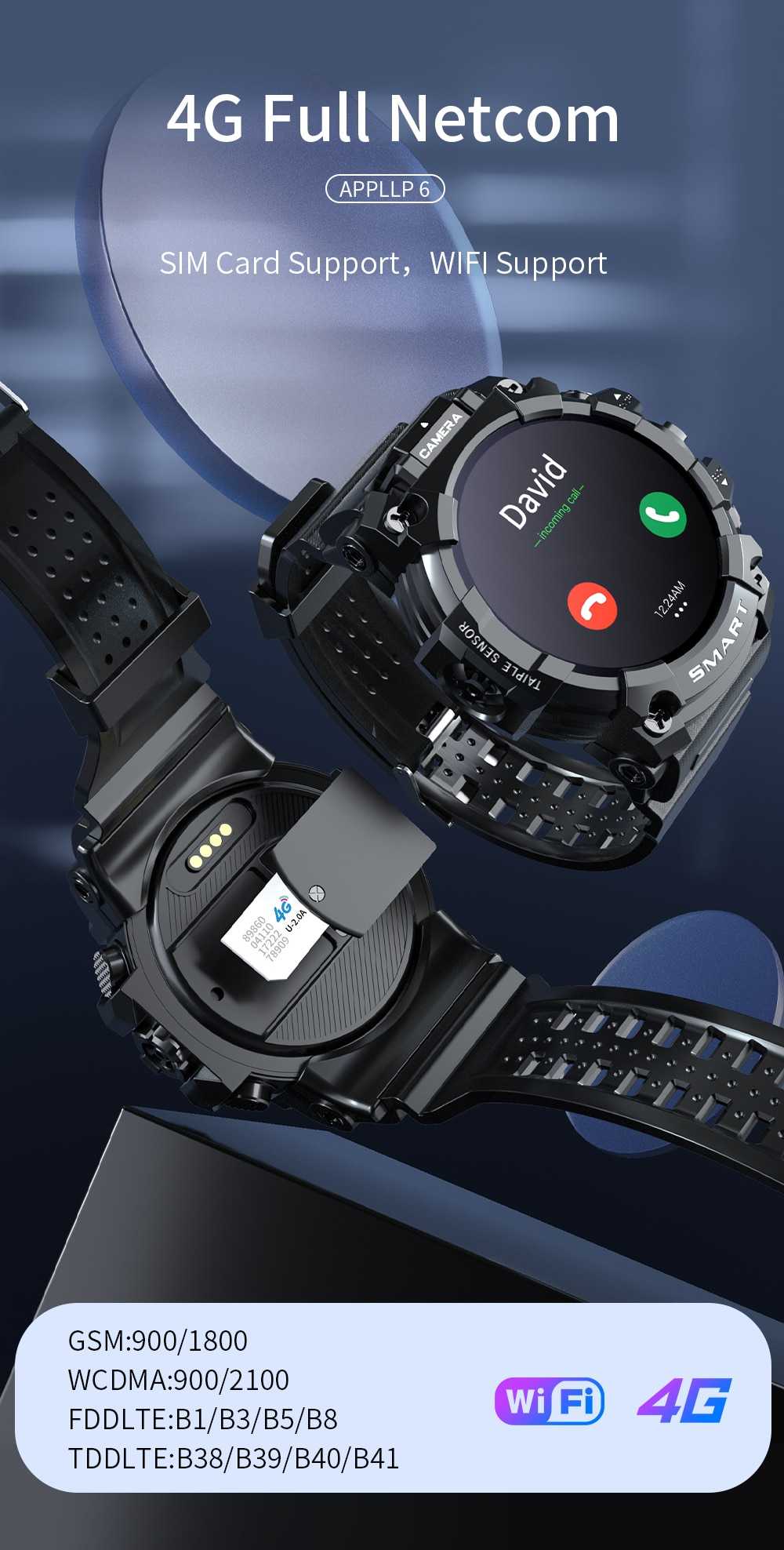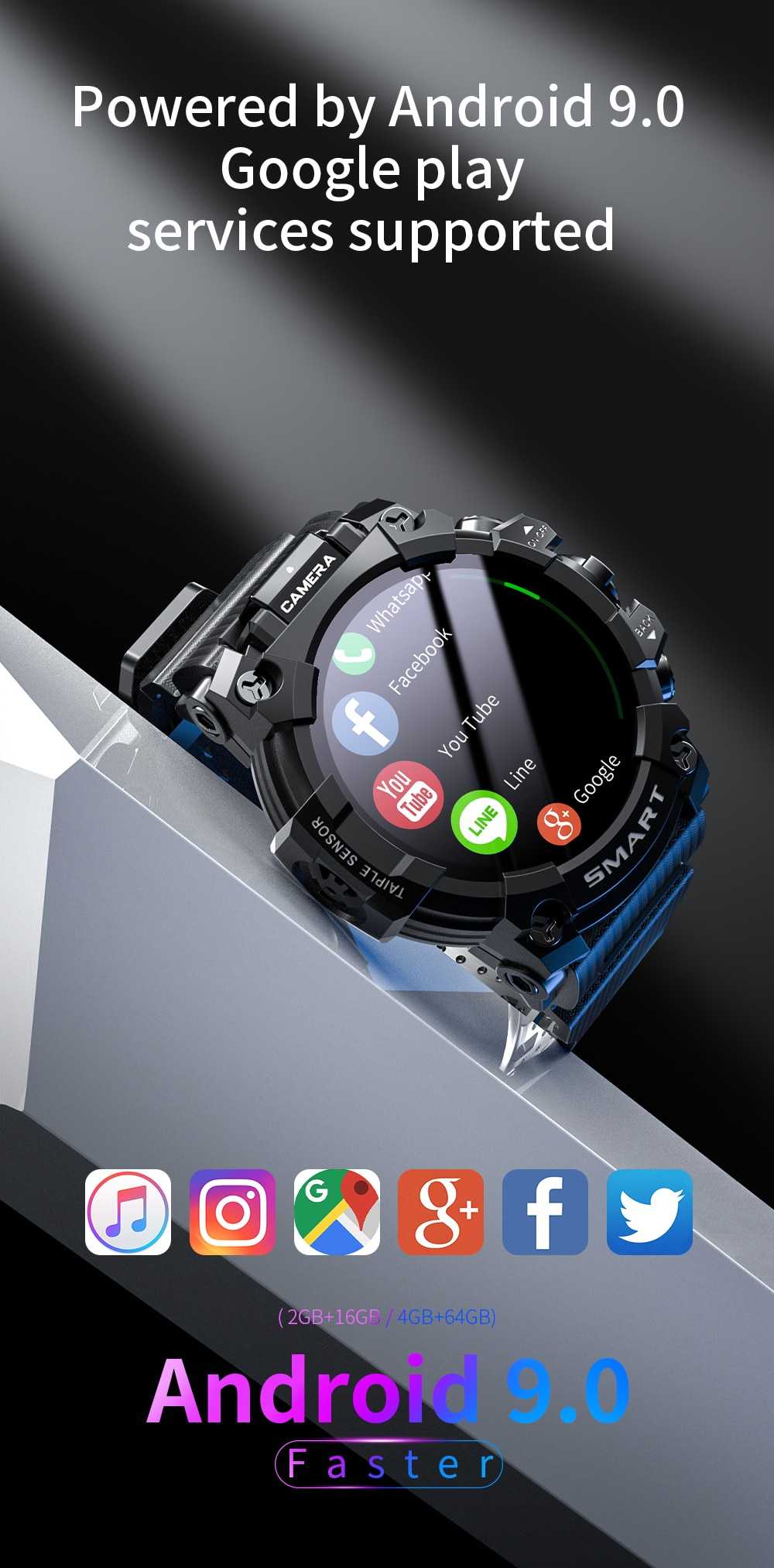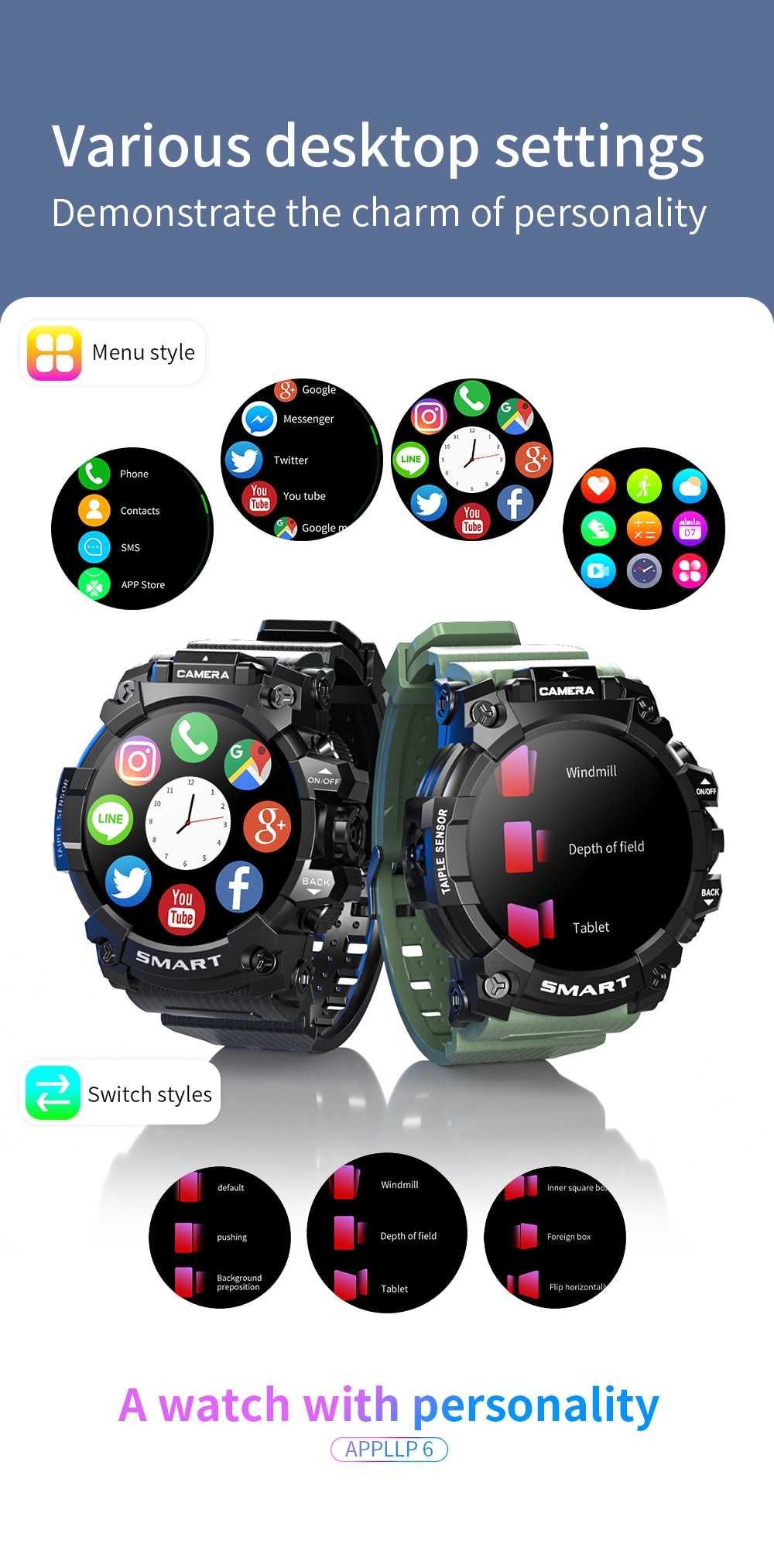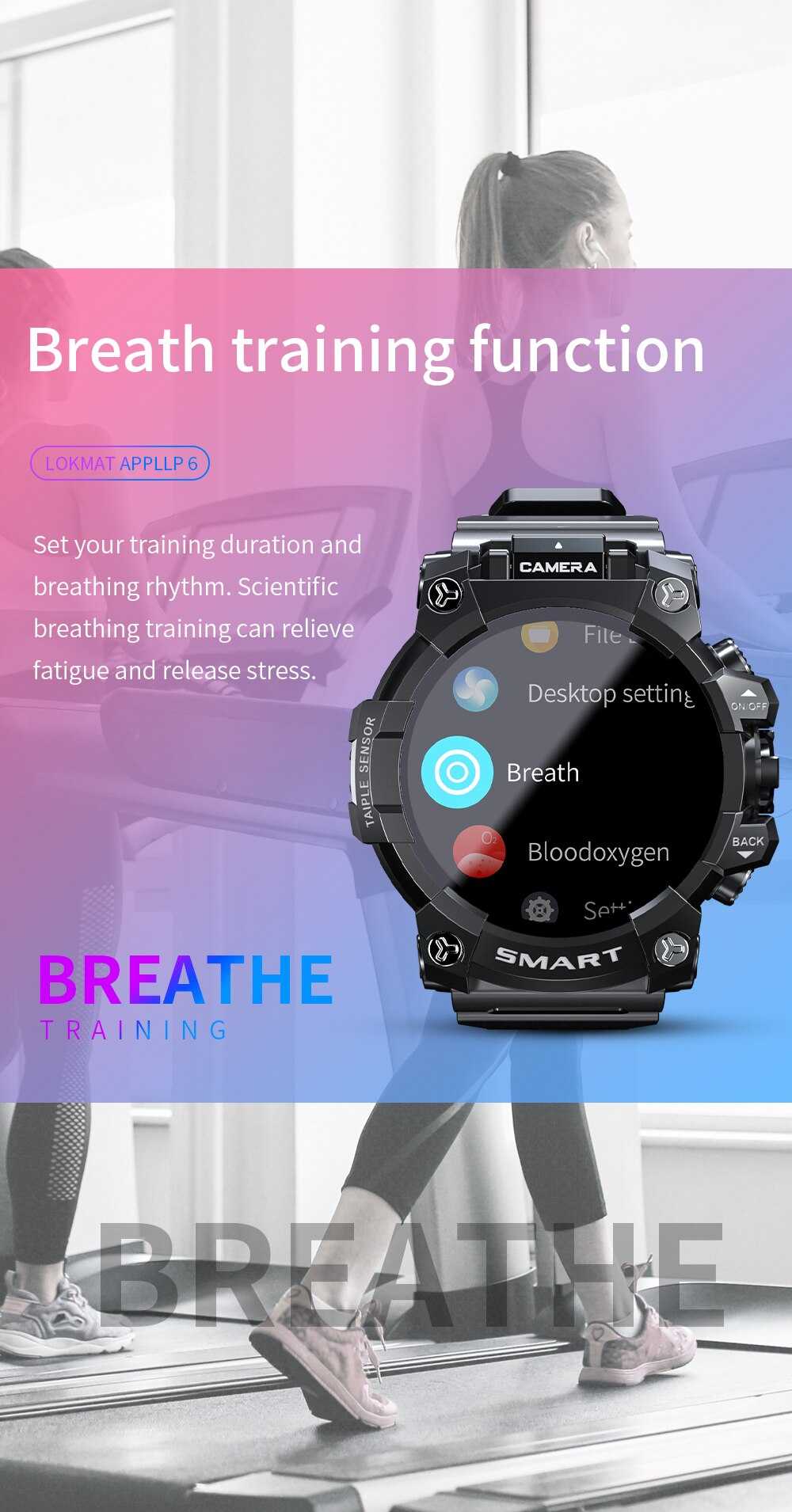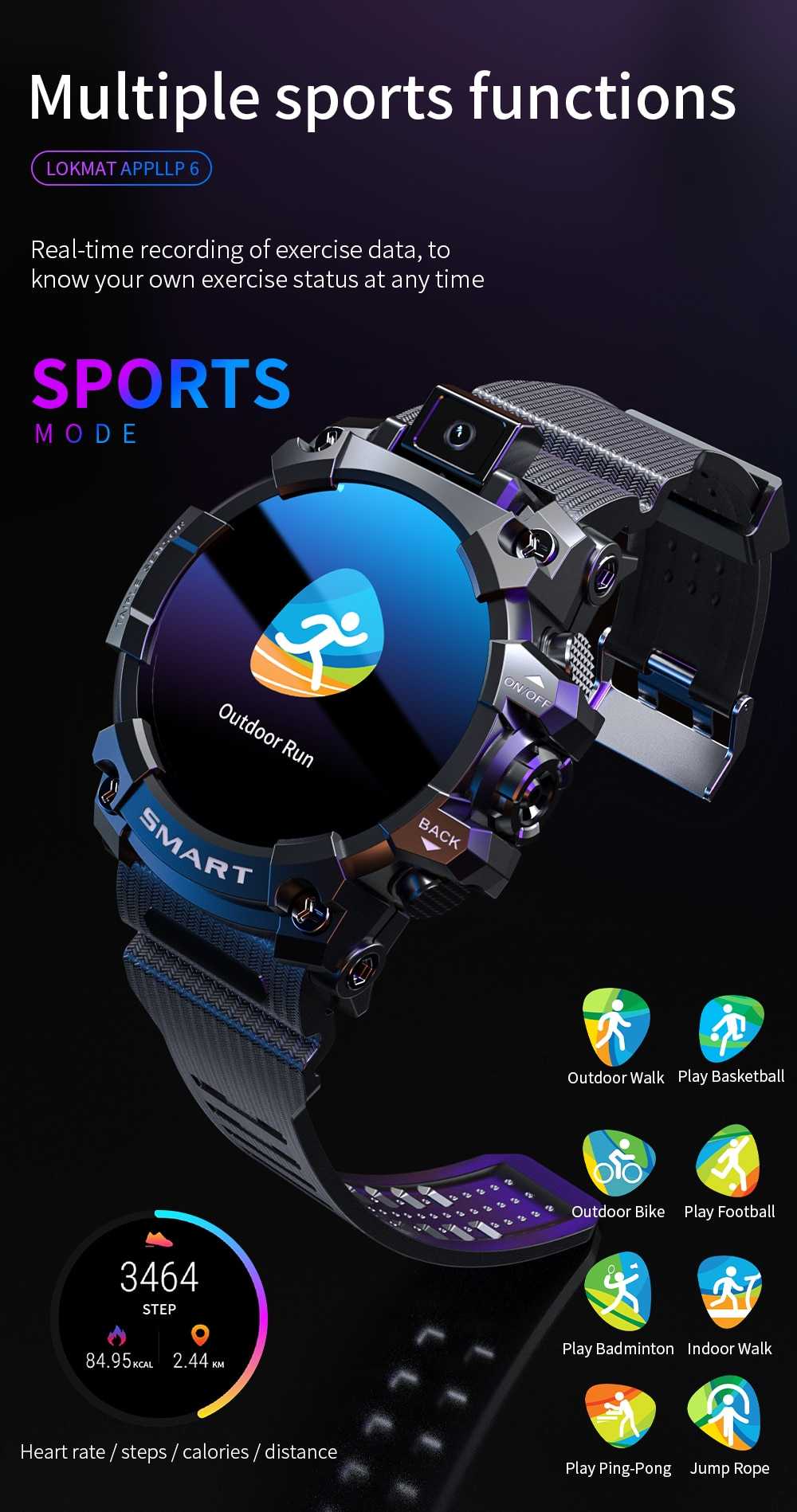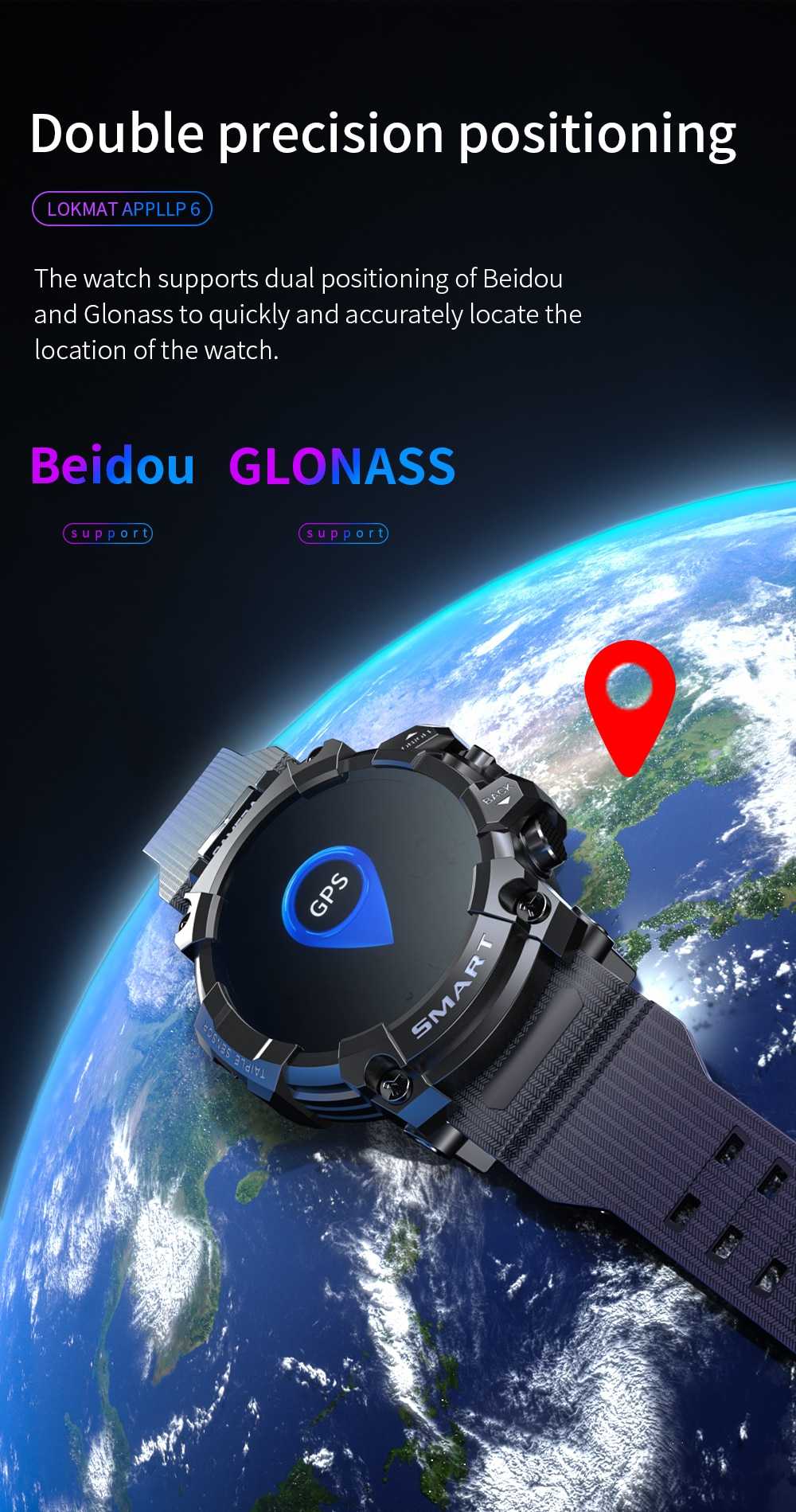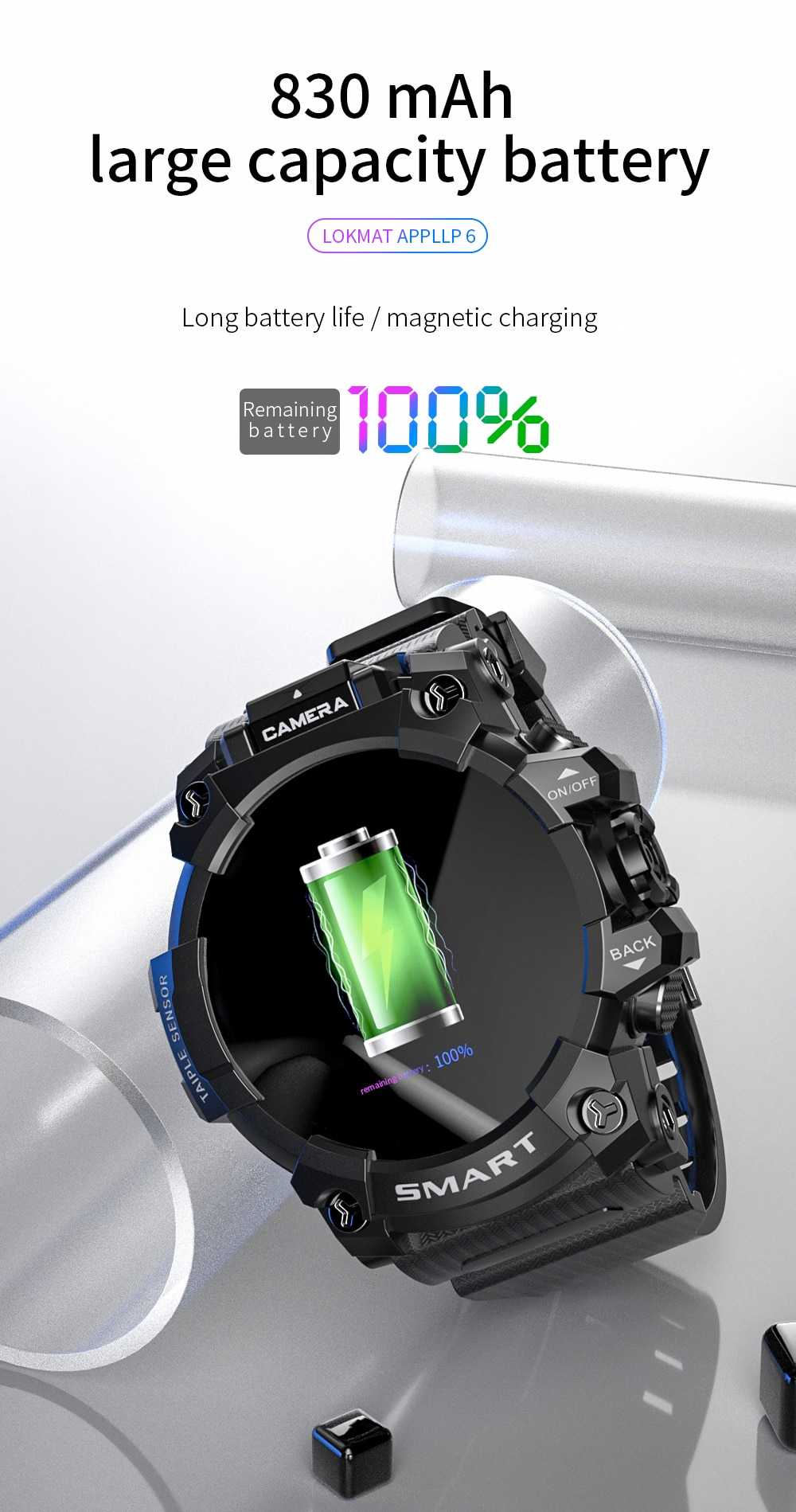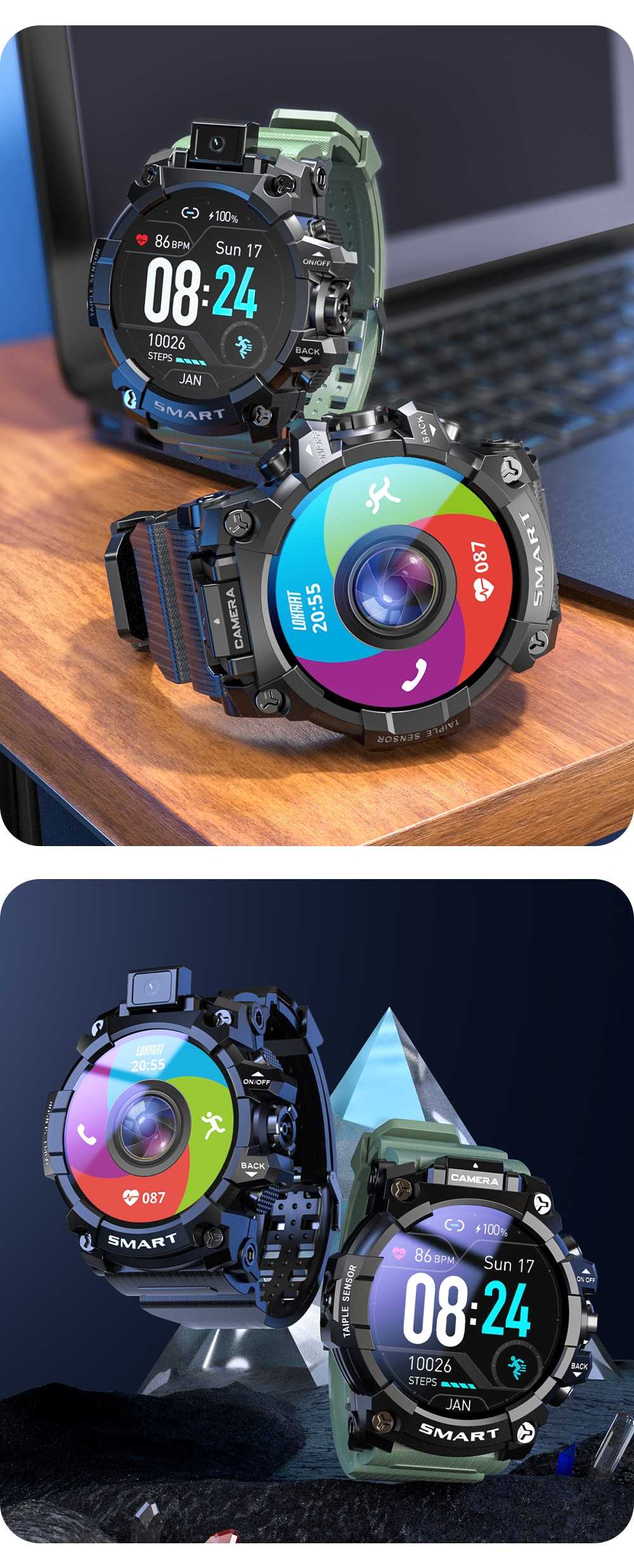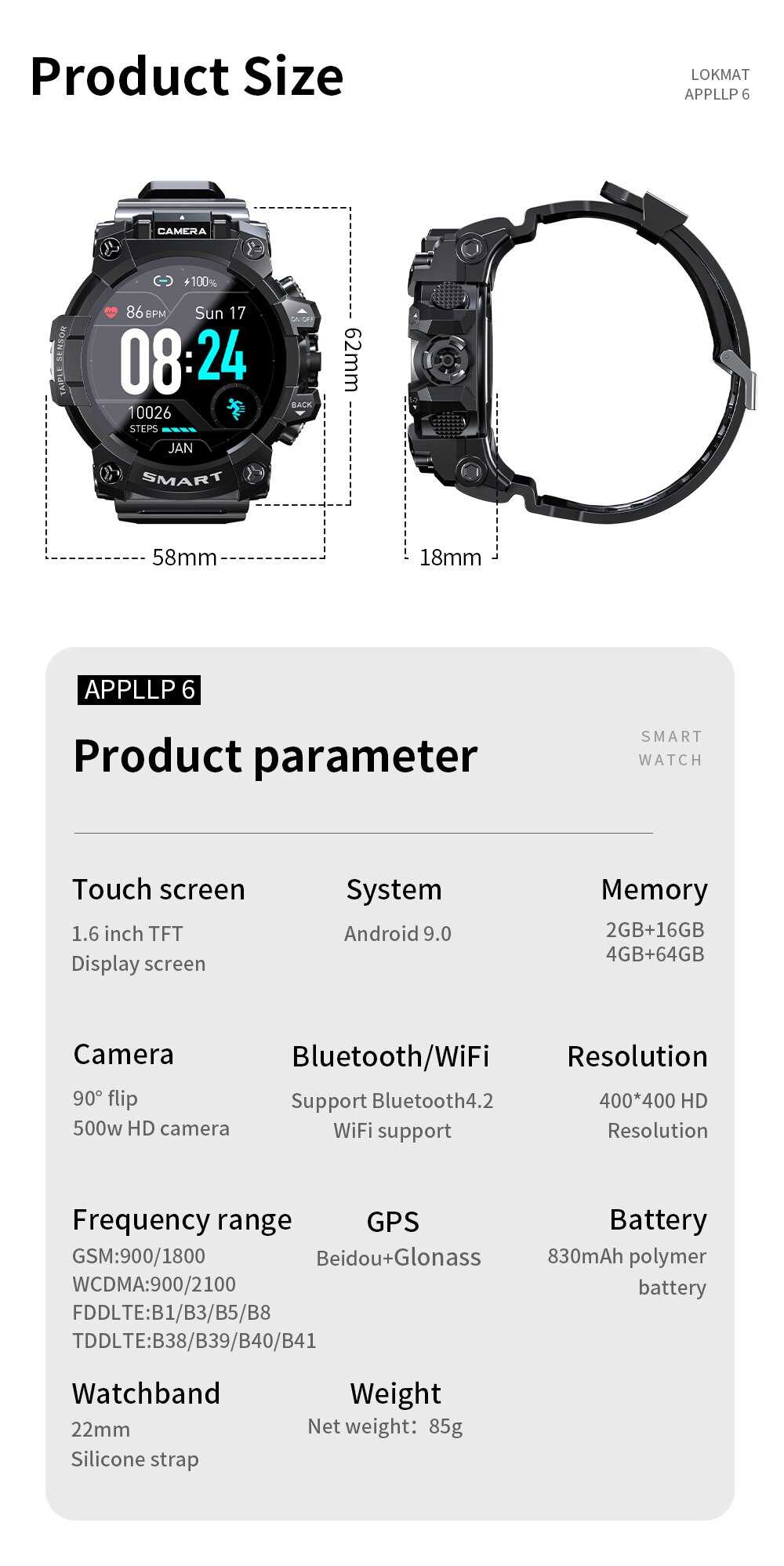 Additional information
Additional information
| | |
| --- | --- |
| Brand Name | LOKMAT |
| System | Android OS |
| RAM | >2GB |
| SIM Card Available | Yes |
| Type | On Wrist |
| Language | English,Russian,Spanish,Portuguese,Turkish,French,German,Indonesian,Greek |
| Network Mode | 4G |
| GPS | Yes |
| Multiple Dials | Yes |
| Battery Capacity | >450mAh |
| Mechanism | No |
| Origin | Mainland China |
| Compatibility | All Compatible |
| ROM | 16GB |
| Rear Camera | 5MP |
| Waterproof Grade | Life Waterproof |
| CPU Model | SCL8541E |
| Band Material | Silica gel |
| Battery Detachable | No |
| Screen Shape | Round |
| Resolution | 400*400 |
| Display Size | 1.6 inch |
| Certification | CE |
| Application Age Group | Adult |
| Style | SPORT |
| Movement Type | Electronic |
| APP Download Available | Yes |
| Case Material | Rubber |
| Band Detachable | No |
| Function | Music player,Video call |